Owners
Ashley Martin
A New Era?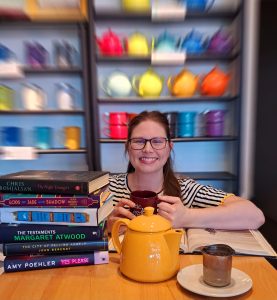 Not so much… I've been a dedicated and devoted employee since July of 2008! After fifteen years, it was only natural I would take over when it was time (though most would say I had taken over many many years ago).
8 years in the making, it was official as of July 1st, 2023.
My love for this place is obvious, in the way I talk to my customers, the way I can go on and on about tea, my colorful and eye catching product displays, and the fact that I am ALWAYS here. It's gotten to the point where it is now part of my identity; or rather, it IS my identity. I am The Attic, and The Attic is me.
And I honestly couldn't imagine being anywhere else or having it any other way.
I love how I can pour my imagination and colorful personality into everything I do for this place. It's always on display with my artwork on the featured drinks menus, the social media post and more. 
It's all Bill's fault that I love it here so much. He hired me (thanks for that, by the way), told me I could do anything I wanted (within reason, of course) to make the Attic feel like a place people wanted to come to, to feel like it was "their place"; so obviously I made it MY place. He mentored me, grooming me to become someone who would keep us up and running for another twenty years. 
Thank you to EVERYONE who has and always will support me and my love for The Attic.
Bill and Julie Macier, making the Attic the way it is today
In the summer of 2007, Bill and Julie purchased The Attic Books & Coffee with the belief that its successful seven year history offer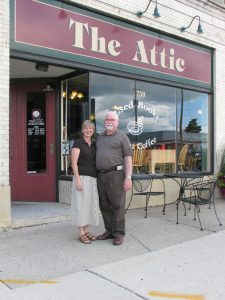 ed a solid base to grow as a socially responsible local business. The established core businesses of Coffee, Tea and Used Books represent personal passions that Bill and Julie share.
The improved floor plan is designed to accommodate a wide range of customers from individuals and business people to book clubs, community groups and more. Our first year focused on creating an inviting, comfortable, friendly environment through renovation, painting and reorganization.
Bill and Julie want The Attic Books & Coffee to be "your place" to meet, to be, and to enjoy yourself!
Our Vision…
is to be a coffee and tea house embraced by a growing community of individuals who still choose to revive, refresh, and renew by selecting a comfortable, welcoming, socially aware environment with expertly prepared espresso, tea beverages and high quality used books.
We are an active participant in the community and make a positive impact on the growth and vitality of our customers, our staff, our community and our business. As social entrepreneurs, we actively assist local non-profit agencies, purchase certified Fair Trade/Organic products whenever we can and limit waste.
From the 1920's to present… 
With this building being built in 1923, the large space in which The Attic resides has gone through a transformation or two.
But We'll start at the very beginning
Nathan Rosenberg had built many buildings around the main street area on Cedar st., Adams st. and Washington st. But his biggest and most well known was the Montgomery Ward building, which occupied 3 city lots in the 400 block of Main street.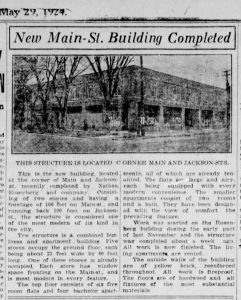 He started construction on this one in 1923 and was finished in 1924. The building was built to feature five retail stores and shops (addresses being 722, 724, 726, 728 and 730 main st.) on the first floor, with eight apartments on the second. This was one of the most prominent buildings on Main street, being well know in the community as the Rosenberg Building. 
The Rosenberg Building Stores
For the first decade of the building's existence, it seems like there were a merry-go-round of stores and store owners. But but the first occupants of the space are as follows: The Main Street Department Store (726) (previously known as The Main Street Store), Main Street Bargain Fruit Store (728), Maloney's Drug Store (724), The Main Street Cash Market (722) and Electric store Langstadt-Meyer Co. (730)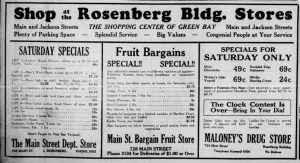 Huxford's Main Street Cash Market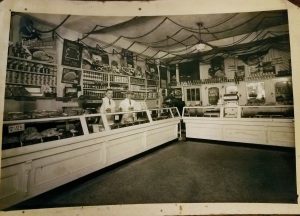 Welcome to Huxford's Main Street Cash Market (circa 1931)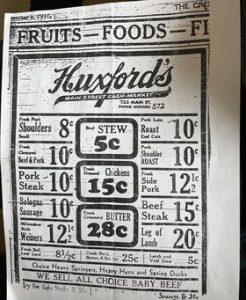 Huxford's opened up shop in 1931, selling everything from meats, eggs and fruits. Arthur Huxford was well known in the community with his involvement with the area's sports teams. In fact, Huxford's Main Street Cash Market had sponsored a baseball, basketball and bowling team, which carried the name of their sponsor.
But in 1939, Arthur Huxford filed for bankruptcy. 
Pomprowitz Appliance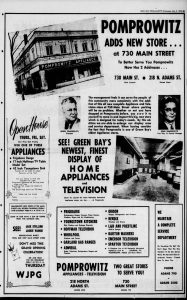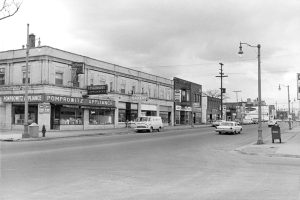 Pomprowitz Appliance Store (you may know them now as Pomp's Tire Service) has had numerous address in the downtown area since opening their first store in 1940. 7 address to be exact; started on 419 Main st, right next to the large Montgomery Ward. In 1941, Pomprowitz then added a store on 505 Main st, until their lease wasn't renewed in 1942. They then moved their second store location to 315 N. Monore. But by the end of 1942, that second store had moved to 520 N. Roosevelt st. 
By 1945, Pomprowitz moved their, now, one and only store to 1100 Main st. In five years (1950), they would then move to 218 N. Adams st. and open their second location in 1953 at 730 Main st… AKA The Rosenberg Building